Leadership
Pure is driven by the deep roots established in the energy sector waste management industry by its Chairman David (Dave) Werklund. Dave is an acclaimed Canadian entrepreneur, the pioneer who developed the Canadian oilfield waste management industry, an energy services industry leader, and dedicated philanthropist. In 1984, he established the first oilfield waste management company (CCS) in Alberta and grew that organization into a $3.7 billion dollar enterprise by 2007. This company, and the many others Mr. Werklund has established, led to him receiving the Ernst & Young's Canadian Entrepreneur of the Year in 2005. Mr. Werklund was inducted as a Member of the Order of Canada in 2018.
Mr. Werklund believes in surrounding himself with talented, progressive individuals, as evidenced by the leadership team he has assembled at Pure.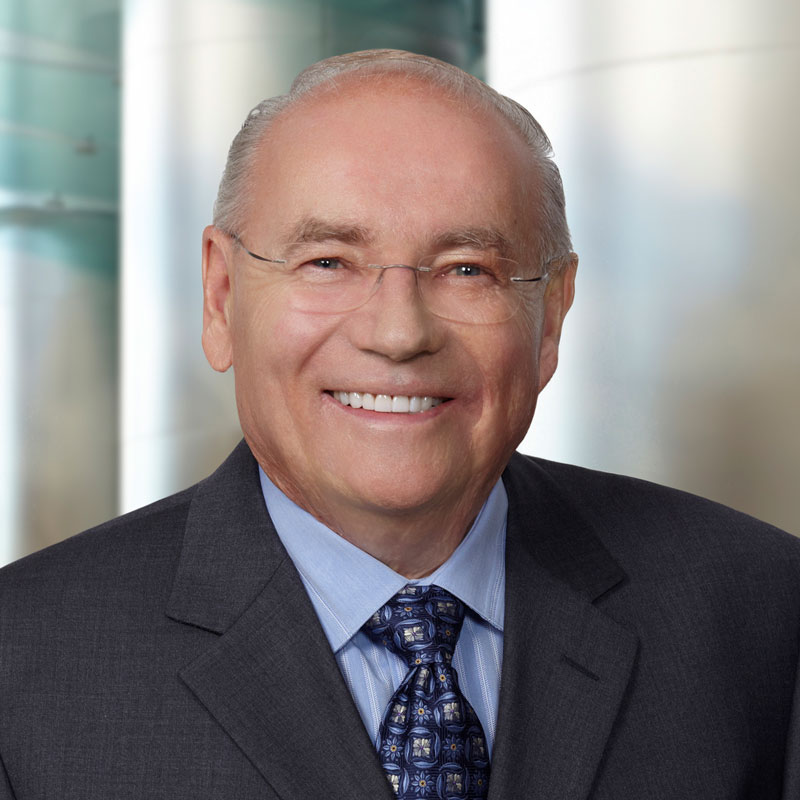 David Werklund
Chairman

An acclaimed Canadian entrepreneur, oilfield-industry leader, and dedicated philanthropist, David (Dave) P. Werklund cultivated his can-do attitude from his wholesome upbringing in rural Alberta. Growing up on a farm fostered a solid work ethic, promoted a strong foundation of core values, and nurtured an appreciation for protecting the environment. It is where Dave's business philosophy was established and is fundamental to the operations of the Werklund Family Office.
An entrepreneur at heart, Dave has a remarkable desire to "always do better" and an extraordinary knack for recognizing and seizing opportunities. His industrious career began in 1965 at Shell Canada where he worked as a Production Manager. It was here where Dave recognized and capitalized on the need to address environmental and waste management issues in the oil and gas exploration industry. He co-founded Concord Well Servicing in 1979 and grew it from a one-rig operation to the third largest well service company in Canada.
In 1984 he established Canadian Crude Separators (CCS - a founding company of Tervita) which grew into a $3.7 billion enterprise by 2007. CCS recognized the need for a treatment facility and built one to meet a specific customer need. In the service rig industry they constantly looked for ways to improve the operation of their rigs resulting in CCS owning one of the most modern rig fleets in the industry. At their treatment facilities, CCS pioneered the Gravity Compression System which helps settle solid waste from the emulsions received at the plant. CCS implemented design innovations in their salt caverns to make them safe and permanent. These design changes led to the first Canadian underground storage facility at Hardisty. CCS believed that waste product should never touch the earth, which led to improvements in their waste management sites that exceeded existing regulatory standards and set the standard for other companies in the industry. Through his role as CEO of a multi-billion dollar company, built from the ground up, he received both Ernst & Young's Prairie Region and Canadian Entrepreneur of the year in 2005. In 2012, CCS and its divisions came together to form Tervita Corporation with sales that reached $5.8 billion in 2013. Dave was with Tervita as chairman until 2016. This remarkable record of sustained growth is a testament to Dave's philosophy of "empowering our people" and creating a workplace where innovation and a solutions-oriented, entrepreneurial spirit rules.
In 2006, Dave redirected his entrepreneurial endeavours with the establishment of the Werklund Family Office, a unique private family organization preserving and promoting the legacy and values of the Werklund family, and providing tailored personal and wealth management services for individual family members. Dave started Werklund Ventures Ltd. to personally invest in private innovative companies. Among his many interests, he is Founder and Chairman of Payload Technologies, the Chairman of Pure Environmental, and currently serves as the Chair of the Boards for RS Technologies Inc. and Intelligent Wellhead Systems.
In addition to his significant successes in the business community, Dave has also strived to enrich the lives of others through his invaluable philanthropic contributions to individuals, organizations, and to his community. In 2006, he endowed the Werklund Foundation as a legacy-building endeavor to empower youth through leadership education. The Werklund Foundation helped develop and launch Empowering Minds™, a program ensuring that thousands of Alberta students are provided an opportunity for empowerment and leadership training, a program considered life-changing by many of its participants. The Foundation continues to fulfil its mission of transforming communities by inspiring youth to achieve their full potential. It has supported and partnered with many inspiring organizations including, but not limited to, the WE Charity (formerly Free the Children), the Calgary Arts Academy, AWALI, Telus Spark, the University of Calgary, Junior Achievement, and Kids Help Phone.
Meet The Team
At Pure Environmental, our leadership is complemented by a team of industry professionals each with deep experience in their respective areas of responsibility.